Apartments Marta Novigrad – About us
---
Welcome to the web pages of the holiday accommodation – Marta.
For those who choose Novigrad in Croatia for their holidays, Marta offers accommodation in three comfortable and fully furnished apartments.
We are a family-run business and our family home is situated in the quiet residential part of Novigrad. We are located just a 15 minutes walk from the busy town centre and a 10 minutes walk to the nearest beach.
We have been in business for more than 30 years. There are many guests that have been visiting us regularly, year after year, with whom we have developed strong friendships. This is something that we feel extremely proud of and is a testament to our service and hospitality.
We know how to be great hosts and our main aim is to make you feel at home with us. We will do our best to make your holidays stress-free and memorable. Just ask us and we will advise you on local natural attractions, sport facilities, cultural venues and various events held in Novigrad and surroundings. All our guests receive a complimentary bottle of home-made white wine as a small token welcome gift.
We speak English, German, Italian and some French.
There is a small bakery in the immediate vicinity and within a short walking distance you can find seve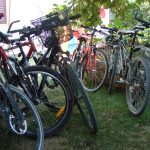 ral famous restaurants where you can discover and enjoy the specialties of the local Istrian cuisine.
In recent years, an extensive network of cycling tracks has been built and upgraded in the surroundings of Novigrad. We host many visitors who use our accommodation as a base for their cycling adventures (www.istria-bike.com).
While most of our guests visit us in summer months, there are many natural attractions and experiences that are best enjoyed during clear and balmy spring or autumn months. In fact, why not visit us in September – the air and sea are still warm but with less people around. Ask the locals and they will tell you that Novigrad is best enjoyed in late summer or early autumn.
Feel free to visit us for just a weekend or for your holidays. Just make sure to contact us early to make a booking. There is often limited availability in summer months so make sure you contact us well in advance of your holidays to avoid disappointment.
Location